VYPER: The Viral Marketing Tool Your Business Needs For More Growth!
WIN A LIFETIME ACCOUNT! 🎉
In fact, we're currently using VYPER to promote this contest ;)
So what do you get with VYPER?
It helps you build viral contests, giveaways and sweepstakes!
We have one of the most advanced growth hacking tools for growing your business. It allows you to use incentivization and gamification to build your email list, social followers, engagement, product launches, podcasts and more.
(Leaderboard & gamification view)
(incentivize actions the are important to your business)
(marketers love using VYPER)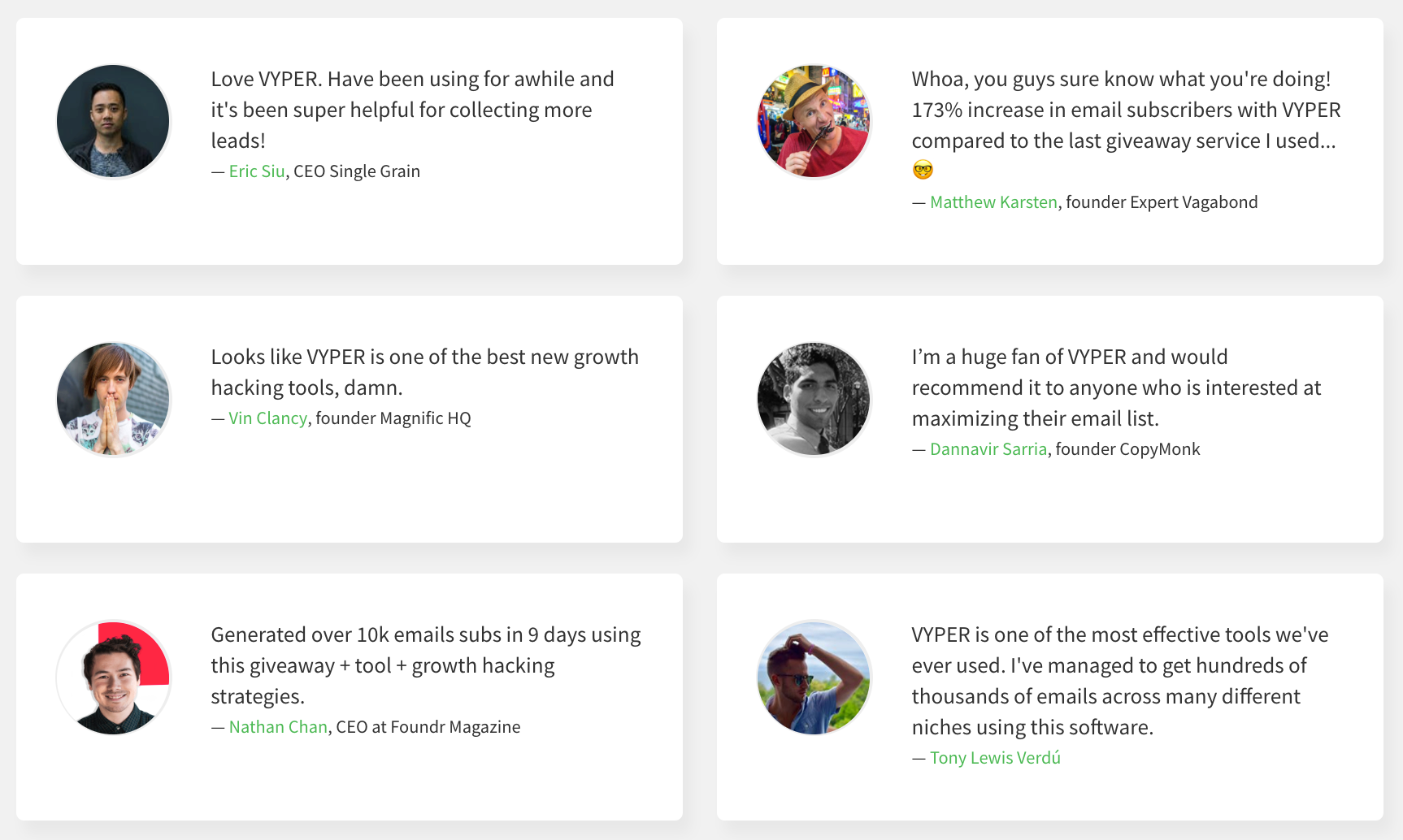 A Few of Our Awesome Features
✓ Referral marketing & viral sharing system
✓ Bonus actions (get people to follow you, like your social content, download apps, leave reviews and more)
✓ Advanced cheat detection & entrant monitoring
✓ Choose to run evergreen or limited time contests
✓ Integrate with popular email service providers or export csv
✓ 3 types of winners to choose from (placement winner, random winner, point milestones)
✓ Automated email delivery
✓ Easy design & building (no coding needed)
✓ Use the VYPER landing page or embed our signup form in your own page
✓ Can't wait for us to announce a winner? Create a free account here
---


What YOU Need To Do To Get A FREE Lifetime Account
1. Enter the contest & confirm your email
2. Complete the bonus tasks to collect extra points
3. The more points you collect the higher your chance of you winning this month subscription
4. We draw a winner every month so keep an eye out for us in your inbox.
Enter to get your Free VYPER account - GOOD LUCK
Rewards & Prizes
Lifetime VYPER Account
We are giving away a lifetime VYPER account every month!
100 Points: How to growth hack Facebook engagements
See how you can growth hack Facebook engagement. Just refer 1 person!
500 Points: The Do's & Don'ts of Facebook Ads
This guide deconstructs 10 top performing Facebook ads and shows you what you should and shouldn't do when creating Facebook ads.
1000 Points: The Cheatsheet for Facebook Ads Success
Jack (co-founder) of VYPER has spent over $100 million on Facebook ads and he shares all his secrets in this guide!
2000 Points: FREE Growth Hacking Guide
List of our best growth hacks that you can copy and use in your own business (we usually sell this for $97).
5000 Points: How to Make Money with FREE + Shipping Course
This course usually costs $197, unlock it by collecting 3000 points in the contest!