Sorry! The contest is over!
Family,
The Charles Walker Band sat down at rehearsal and discussed, "What are our two favorite albums ever?" We struggled and picked, and repicked, and repicked again and decided on them...and now we want YOU to have them all! You have a chance to win ALL SIX albums in this contest. One lucky winner can jam out to what we love to jam out to! Here's how the contest works:
STEP 1: SIGN UP. For signing up to the contest, you will receive an entry into the contest.
STEP 2: SHARE. Share the contest by using your special URL to tell other people about the contest and getting them to sign up. You will get an additional entry for each person you get to sign up.
STEP 3: KEEP SHARING. Continue to gain more entries by using your special URL on whatever social media you love and connecting to the CWB social media profiles.
What are entries? Each time you receive an entry, it's like getting another ticket in a raffle. The more entries you have, the better you chance of winning!
The winner will be drawn randomly by computer at the end of the contest (9/20/17 4:30 CST)
The CD's:
Charles Pick: Stevie Wonder - Songs in the Key of Life
Why this album: It's hard to believe how many amazing songs are on this album. The album contains 21 songs and you will be hard pressed to find the weak one in the album. This album also blows me away because of the the lyrical content. It's pure positivity, sometimes fun, sometimes sad, always beautiful. And each song is so unpredictable. Stevie goes from straight funk to r&b, pop, latin, even a New Orleans style feel. I am always awed when I sit and listen to this album in it's entirety.
Porsche's Pick: Erykah Badu - Live
Why this album: You can't beat live. You can't beat the energy of the performance or the crowd. And these songs are so easy to sing along to. Match that with Erykah's passion on every song and you will see what I fell in love with it. It was released almost 20 years ago, and I still listen to it and fall in love all over again.
Paris Pick: Michael Jackson - Thriller
Why this album: These are the songs that I grew up with. The song Thriller and Billy Jean stood out to me the most because the entire feel of the songs continuously stuck with me. It is the soundtrack of my youth.
Charles' Pick: Earth Wind and Fire - All n All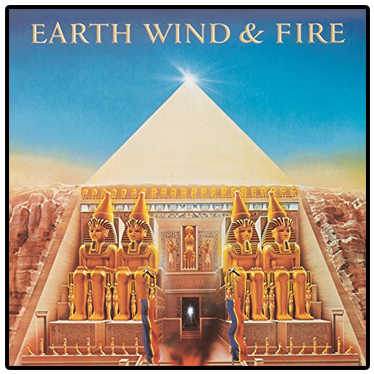 Why this album: The use of the Kalimba (African finger instrument) is what drew me into the album. It has a distinctive sound that ties everything else together. The horns were on fire on this album, extremely tight and punchy. And the entire album feels like a world music album, not just a funk album. Finally, the lyrical content is amazing and full of positive philosophy. It amps me up before a show and gets me ready to go do my thing!
Porsche's Pick: Bob Marley - Legend

Why this album: I don't know his struggles but you can't stay in a bad mood while listening to Bob Marley. He is one of those artists who you hear his song and his voice, there is so much conviction you don't have to speak English to feel it. And there is always a positive spin on the lyrics. The song writing is so dope. The Wailers are dope. The background vocals are dope. They always seem to hit a home-run with their songs. They have all the elements you love when you hear a song. They make you feel good when you feel bad. Great hooks. Great arrangements. Easy to sing along with. It evokes all kinds of positive emotions. Even when he is singing about struggle, it is still feel good music. You get to know him as an artist through his lyrics.
Paris Pick: Snarky Puppy - Family Dinner

Why this album: I like the album's versatility and their instrumentation. Their music takes me on a musical journey and their musicianship makes me always want to practice harder. They feature Lalah Hathaway on this album, and her vocals enrich an already incredible band.