Sorry! The contest is over!
Want to Win the Ultimate Holiday Bundle for Authors?
Authors are constantly giving away prizes to readers. This holiday season, we thought it's time authors won something for a change!
That's why we've brought together over 15 amazing companies that work with authors to create the biggest giveaway we've ever done!
Over 50 Winners. Over $5,000 in prizes.
We're not joking!
(Did we mention we have a number of exclusive discounts to share, too?)

---
How Do I Win?
It's simple: Sign up, and then share to gain points. The more points you earn, the more you can win. Scroll down to see all of the awesome prizes!
Contest Ends: Monday, December 11, 2017 11:59 PM (PST)
1st Place Winner (Most Points)
Pick Your Own Bundle of 5 Awesome Prizes! (See Section Below)
Plus a $100 Bookstore Gift Card!

2nd Place Winner (Second Most Points)
Pick Your Own Bundle of 3 Awesome Prizes! (See Section Below)
Plus a $50 Bookstore Gift Card!

3rd Place Winner (Third Most Points)
Pick Your Own Bundle of 2 Awesome Prizes! (See Section Below)
Plus a $25 Bookstore Gift!

4th Place - 10th Place (Winners to Choose Prizes in Point Order)
Pick 1 Awesome Prize! (See Section Below)
Random Draw Winners (Anyone Can Win)
All Remaining Prizes! (See Section Below)
1 $25 Bookstore Gift Card!
---
Check Out All These Prizes!

1-Year Subscription to All Writers Welcome Academy!
($399 Value — 1 Winner)
All Writers Welcome helps indie authors turn their publishing dreams into reality. We offer one-on-one writing and marketing coaching, as well as the All Writers Welcome Academy, a unique subscription platform featuring self-paced courses, live masterclasses, weekly group coaching, and an active community of committed authors.

Amazon Marketing Training Course! ($299 Value — 3 Winners)
4,500+ books are published every day, is yours getting noticed? This exclusive video series includes: How to get top visibility for your book; How to get hundreds of reader reviews with just one strategy; How to figure out which keywords buyers are really using; and so much more.
Author Marketing Experts, founded by indie author and "Queen of Amazon" Penny Sansevieri, specializes in turning authors into success stories with innovative, personalized strategies and publicity campaigns.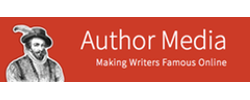 MyBookProgress Pro Wordpress Plugin! ($20 Value — 50 Winners)
MyBookProgress Pro is a WordPress plugin that lets readers know about your upcoming book while growing your email list and keeping you on deadline.

Author Media is a team of expert web designers, social media managers, and coders who are dedicated to making online platform building easier for writers. We believe that websites should be more than online brochures, yet simple enough for anyone to learn how to update.
50% Off 1 Year of Author Reach Membership! ($125 Value — 1 Winner)
The winner will also receive an eBlast featuring their free book to our free book readers' newsletter of 7k subscribers!

Author Reach is an email newsletter service provider. Think MailChimp, but just for authors. As a service built exclusively for authors, we offer features that you will not find anywhere else. What other email marketing service brings you readers?
30-Minute Consultation & Custom Designed Facebook Ad!
($150 Value — 1 Winner)
Author's Umbrella provides custom writing, design, and creative strategies for upcoming book releases, along with a host of other services that allow authors to focus on what they do best – write engaging books. For more than a decade, CEO Kim Rozzell has served as a PR Counselor and Publicist to NY Times bestsellers, award-winning authors, and writers making their debuts.
1 Year Subscription to Book+Main Bites Romance! ($198 Value — 1 Winner)
This subscription allows you to take advantage of all features available through the paid author subscription.

Book+Main Bites—Romance is a content-based social media community that lets readers follow their favorite authors and discover new ones—every single day. It's a fresh, exciting way to connect with readers, increase visibility and convert your content to book sales.
1 Year of BookFunnel's Mid-List+Integration Plan! ($150 Value — 3 Winners)
Create custom landing pages to deliver your reader magnet, restrict freebies to loyal readers only, and send ARCs securely. Ready to sell your books direct? Sell on your website and let BookFunnel handle the file delivery and tech support! All this and more is included on your plan.

BookFunnel is an ebook delivery platform that takes the headache out of sideloading books. Create a beautiful landing page that converts in seconds, and share it with your readers! If anyone has trouble, our friendly support staff knows every reading device inside and out and is always happy to help.
1 Year of Booksprout's Bestselling Author Plan! ($200 Value — 1 Winner)
Booksprout helps authors automate their ARC team. Everything from sending ebook files to targeted follow up emails is handled automatically by us. We also have a free app authors can use to promote their books and book giveaway pages.

1 Multi-Author List-Building Promotion! ($60 Value — 5 Winners)
BookSweeps, founded by Ryan Zee, is one of the premier ebook giveaway & email list-building sites for fiction & non-fiction authors, with an email list of nearly 150,000 readers.
1 Promotion in Our Free Ebook Newsletter! ($11 Value — 1 Winner)
The Fussy Librarian offers book promotion and book editing services. Our free ebook newsletter reaches over 43,000 readers!
The Marketing Crystal Ball Workbook! ($12 Value — 10 Winners)
Hey Girl Coaching: Have you written a rad romance novel (or three) that you're dying to share with the world? Have you considered your options and decided indie publishing is the bomb dot com? Or maybe you've already published a few (dozen) books and you still feel a little lost. We can help!

1 Hour Publishing Strategy Session! ($300 Value — 2 Winners)
This laser-focused publishing strategy session with publishing professional Julie Trelstad will help you determine the moves you need to make to get you to the next step in your career. Receive friendly actionable advice on querying, building your author platform, working with agents and publishers, indie vs. traditional publishing, websites, newsletters & more.
Julie Ink helps professional authors grow their businesses through digital marketing savvy and smart publishing strategy. We provide the know-how and tools that help authors need to build their personal brands and to succeed in the competitive publishing marketplace.

1 Hour One-On-One Consultation! ($105 Value — 1 Winner)
Want to pick my brain over the phone, email, or Skype? This is for you!

Kate Tilton has been serving authors since 2010. Founder of Kate Tilton's Author Services, LLC, she helps authors of all stripes upscale their businesses and connect with readers. She loves cats, tea, and all geeky things.
PR Template Package! ($49 Value — 1 Winner)
The templates included in this package outline exactly what to include in your pitch emails and press materials, based on the type of coverage you're hoping to secure, from books reviews to interviews, articles and more!

Kaye Publicity, Inc. is a boutique PR company specializing in publishing and entertainment.
One 6" x 9" 300 DPI High-Res Book Cover! ($135 Value — 1 Winner)
The Killion Group is a full service publishing group. We can help you with everything from branding you as an author to designing your book cover or series, to formatting your ebook and print book and then helping you market your book. We even edit content and write your back cover sales copy.
20 Minute Creative Block Consultation + Get Unstuck Video Course!
($150 Value — 4 Winners)
In this 3 part video workshop, you will discover practical tools and powerful techniques to help you uncover your blocks, overcome procrastination, and move towards your dreams.
Laura von Holt is a writer and creativity coach who has been a featured speaker at SXSW and has been called "fearless" by the New York Times. Using tools from the Stanford-based program, CIJ, she helps people apply their creativity to personal and professional challenges. In this 20-minute session, she will help you identify your blocks and offer practical tools to help you get unstuck.
Ebook Promotional Feature on My Book Cave! ($100 Value — 5 Winners)

We'll send your free or 99 cent book deal to 36,600+ email subscribers and 50,000+ social media fans.

My Book Cave helps you find more readers on all the main retail sites. Our active subscribers love to receive our daily emails about your free and discounted ebooks. Introduce your book to up to 86,000+ new readers using our retailer ebook promotions.
Scrivener 3 for macOS or Windows! ($45 Value — 2 Winners)
Scrivener is the go-to app for writers of all kinds, used every day by best-selling novelists, screenwriters, non-fiction writers, students, journalists, translators and more. Scrivener won't tell you how to write—it simply provides everything you need to start writing and keep writing.
Free Access to Our Course "How to Become a Full-Time Author"! ($97 Value)

TCK Publishing is an international book publishing company specializing in digital marketing for mass market fiction and nonfiction.

1 Page Critique of Your Book Query Letter! ($150 Value — 1 Winner)

Writers House was founded in 1973 with a vision for a new kind of literary agency, one that would combine a passion for managing a writer's career with an integrated understanding of how storytelling works. The agency has played a critical role in developing the careers of hundreds of novelists and non-fiction authors, including Nora Roberts, Neil Gaiman, John Green, Stephen Hawking, Stephanie Meyer, Michael Lewis, and many more.
A Free Promo on 1 of 4 Book Promotion Sites! ($100 Value — 1 Winner)
The winner can choose between a promo on Freebooksy, Bargain Booksy, Red Feather Romance or NewInBooks!
Written Word Media empowers authors to sell more books through our 4 book promotion services: Freebooksy, Bargain Booksy, Red Feather Romance and NewInBooks. We have over 800,000 readers across our 4 brands and a reputation for great customer service. Booking a promotion with us is easy, affordable and satisfaction guaranteed.