We have the ultimate prize pack for breastfeeding and pumping moms and moms-to-be!
Ardo Calypso-To-Go Double Electric Breast Pump - $299.95 Value

The Calypso-To-Go Double Breast Pump-To-Go Double Breast Pump is the ultimate collection with all you need to be totally mobile when you are expressing. The collection includes a double breastpump plus a complete selection of breastfeeding accessories, easy to transport in a stylish breastfeeding bag. Accessories also include: cool bag and cooling elements for storing breast milk. The Calypso breastpump features independent vacuum and cycle adjustment with 64 total settings. "Vacuum Seal" technology creates a closed system -- no milk in the tubes or pump. Includes three different sizes of breast shells to ensure that every mother can find the right size to suit her nipple. The soft Optiflow massage inserts (26mm) actively massage the breast and ensure efficient and gentle expression. Ardo's 400 hour warranty (or one year -- whichever is better for mom) assures the mother of a reliable Swiss-made breastpump that she can depend on. WHO Code Compliant.
$200 Vida Leche Amor Gift Card

Vida Leche Amor is a collection of maternity and breastfeeding tops and dresses designed to fit and flatter your body throughout the pregnancy and breastfeeding journey. We have everything you need to go from Bump to Breastfeeding and Beyond.

Sarah Wells Kelly Breast Pump Convertible Backpack - $125 Value
It's no coincidence the "Kelly" breast pump bag is named after Sarah Wells' mom because it is THE bag that does it all. The "Kelly" features easily-concealed backpack and shoulder straps for ultimate on-the-go pumping convenience. The bag converts from a functional, sporty backpack to chic shoulder bag with ease and is the only designer breast pump bag with a dedicated pump pocket large enough for hospital grade pumps. There's also tons of pockets for extra storage, including a padded laptop pocket for screens up to 17" wide.
Vida Leche Amor Breastfeeding Mama T-Shirts - $66 Value

The winner can choose 3 t-shirts from our Vida Leche Amor t-shirt collection, or submit an idea of her own to have printed.
Littlebeam Elephant Paisley Nursing Pillow - $39.99 Value
The Littlebeam pillow is a comfortable, supportive pillow that helps you position yourself and your baby during breastfeeding. What's so perfect about this pillow is that it places your baby firmly at nipple height, making it easier for the baby to latch-on. The pillows are portable and can be used in a variety of different positions. With is unique body-hugging shape, it doesn't need straps or Velcro to stay in place.
Motherlove Nipple Cream and More Milk Plus Supplements - $36.90 Value

Motherlove's Nipple Cream is an all natural herbal salve that quickly relieves the discomfort of sore, cracked nursing nipples. All ingredients are safe for ingestion, so it does not need to be washed off prior to breastfeeding baby. Motherlove provides the best nipple cream for breastfeeding, which is made with 100% certified organic ingredients. The USDA's national organic does not permit the use of ingredients made with GMOs in certified organic products.
Motherlove's best-selling more milk plus supplements are an alcohol free liquid concentrate in vegetarian capsules designed to support breast milk supply for breastfeeding mothers. Not for use during pregnancy.
Irish Eyes Designs Diana Turquoise Teething Necklace and Bracelet - $29.00 Value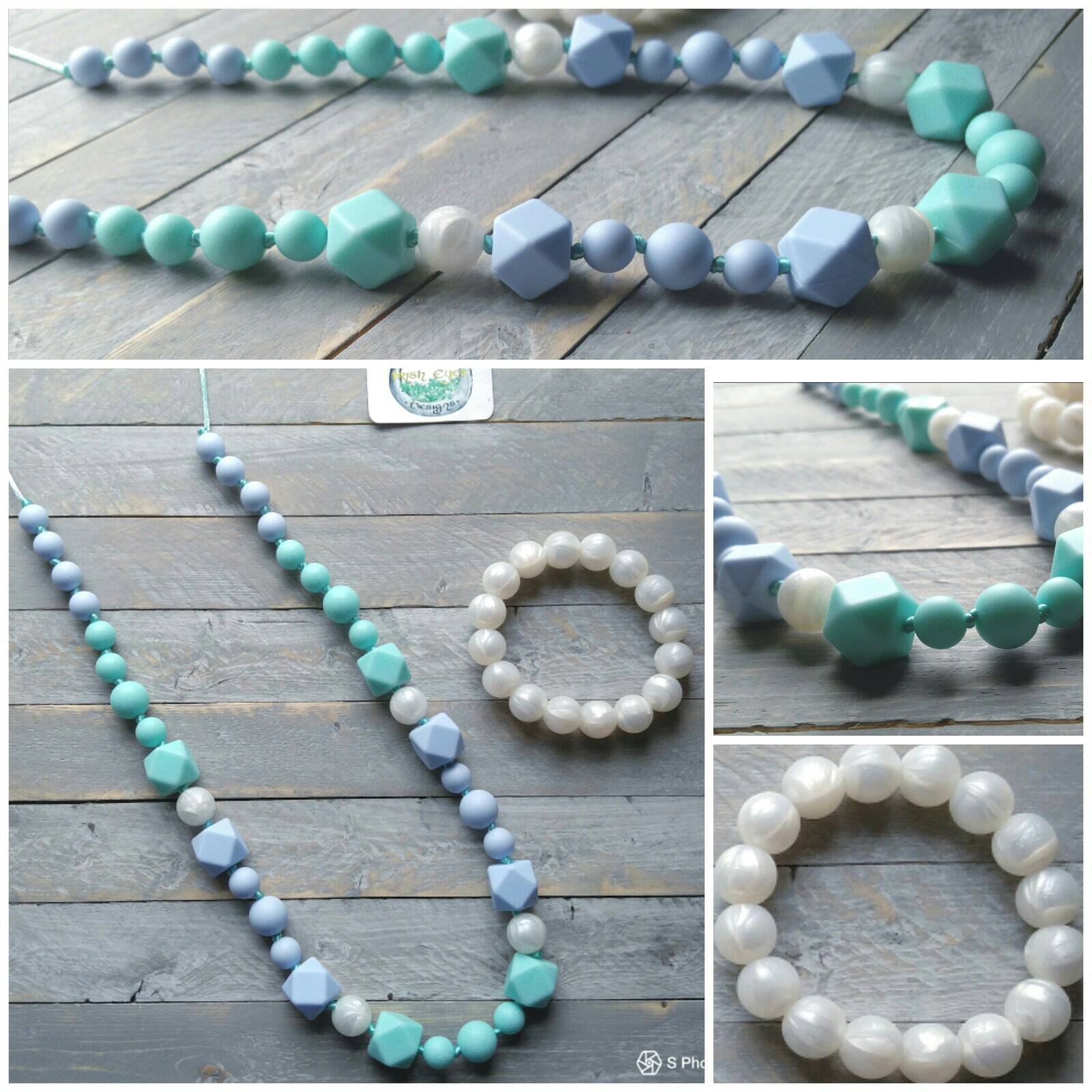 The Irish Eyes Designs Diana Turquoise Teething Necklace is handmade from food grade silicone, breakaway clasp and satin cord. It is safe for baby to chew on to help relieve teething pain. It is also great for baby to touch and play with while nursing to help prevent distractions. The matching bracelet finishes your functional and fashionable look.
Lil' Buds Breast Comfort Pack - $25 Value
lil'buds are a comfort pack, for your breast, that you can use hot or cold. They have a 100% soft cotton flannel exterior, are filled with flax seed and can be used on all breast sizes. They are arc-shaped and slim, allowing you to wrap them around the breast and wear snugly in a nursing bra or tank. Use lil'buds HOT to help clear clogged ducts, prevent mastitis, or relieve pain associated with infections, pumping, let down, etc. Use lil'buds COLD to help relieve engorgement.
Marley's Monsters Nursing Pads (3 Pairs) - $18 Value

Marley's Monsters nursing pads, which protect against leaks, are made with 4 layers of protection including flannel, cotton terry cloth and anti-pill fleece. The fleece goes against your clothes to create a barrier between the absorbent cotton and your clothes. These pads are very absorbent without creating excess bulk and naturally form to the shape of your breast after washed and dried.