Explode your email list with viral contests.
VYPER allows you to create stunning giveaways that generate tons of email leads. Some call us "crack" for growth hackers.


SIGN UP FREE
or
view demo contest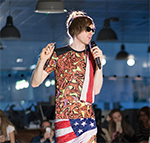 Looks like VYPER is one of the best new growth hacking tools of 2016, damn.
— Vincent Dignan, co-founder of growth agency MagnificHQ, Techstars Alum, named "The Best Underground Growth Hacker in the World"
What are "viral" contests?
---
Normal contests prohibit sharing, because no one wants to share the contest and lower their chances of winning. "Viral" contests are different. Contestants are incentivized to share the contest for extra entries. This creates a viral loop that can quickly help you build a massive email list.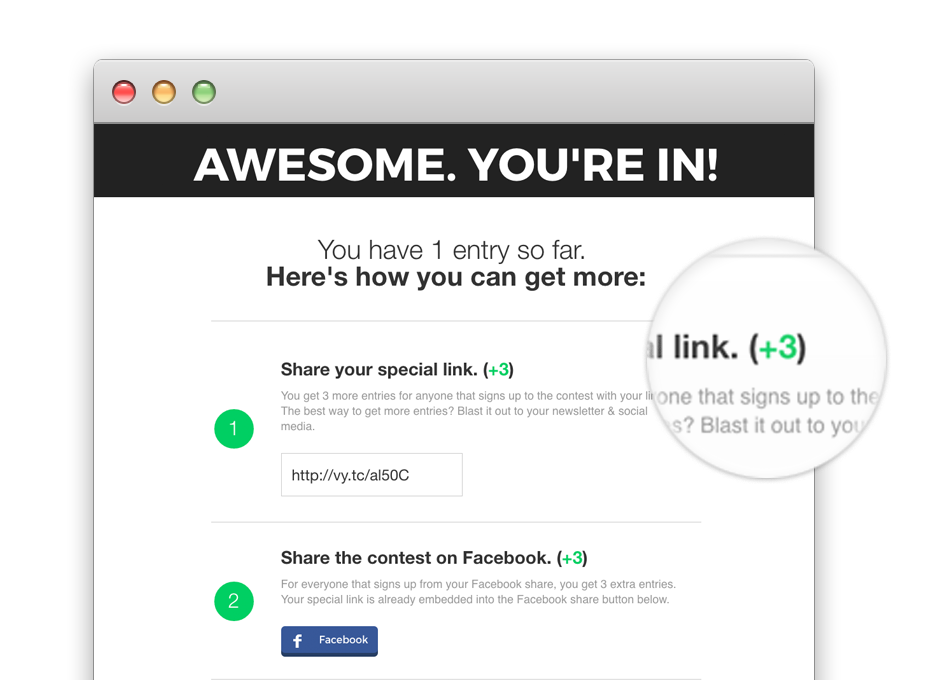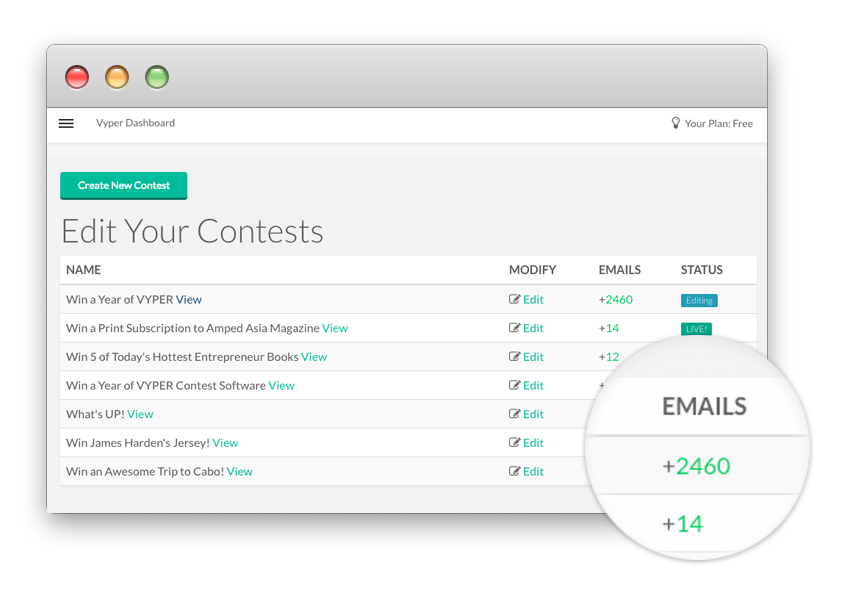 Grow your email list in 3 easy steps
---

1. CREATE A CONTEST
Using VYPER, you can quickly build a contest customized with your own branding and style. Users must enter their email to sign up.

2. PROMOTE
Promote your contest to your email list, on social media, and other channels (reddit, Facebook ads, etc). Leverage your existing audience to "jumpstart" your contest.

3. SEE VIRAL EMAIL GROWTH
Because your visitors get extra entries, they share your contest with their audience & friends. Every email you acquire brings in more emails — doubling or tripling the effectiveness of your marketing efforts.
Our "secret sauce"
---
WHY VYPER IS BETTER THAN THE REST
VYPER is a contest platform built by growth hackers. We know what works for conversion, and we built features focused SOLELY on getting you more emails. With that being said, here's why our software rocks.

CORE FEATURES
Conversion-optimized landing page that was rigorously A/B tested for conversion.
Customizable template & CSS built to look like your personal brand.
Opt-in bribes help incentivize sign-ups.
Training built-in to the platform.
Easily pick winners after the contest is over.
Cheating detection automatically disqualifies cheaters.
Expired contest popup collects emails even when your giveaway ends.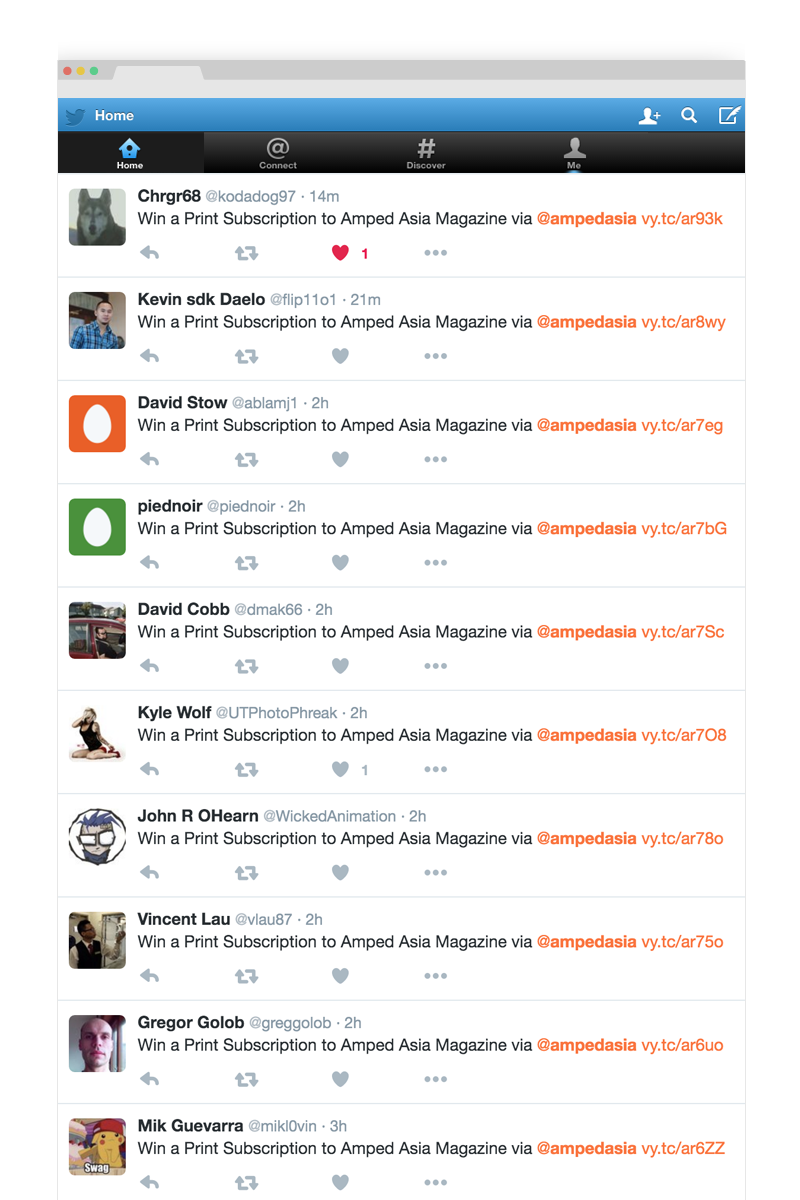 What are people saying?
---
Looking like @vypergrowth is one of the best new growth hacking tools of 2016, damn

— Magnific (@MagnificHQ) July 7, 2016
We started using giveaways with @vypergrowth and have never seen such amazing results! Our customers love them and share like crazy!

— PTM Images (@PTMImages) July 10, 2016
Frequently Asked Questions
---
Contests are known to produce great numbers, but don't you get a lot of bad emails who just want your freebie?
That's a fair concern and there are a lot of elements that affect the quality of your emails. For example, if you offer a Macbook Pro and you're a blog for moms, you're going to get a lot of emails that aren't right for you. On the other hand, if you offer a very specific item that only moms want, then your contestants will be much more high value. There are many other factors that affect engagement, and we discuss this a lot in our blog.
How does your system prevent contestants from cheating the system?
We have a proprietary cheating algorithm that detects cheaters and prevents them from being chosen when you go to pick the winners. We don't reveal our algorithm publicly, because if we did it would make it that much easier to game our system. We pride ourselves in being one of the most advanced cheating detection systems for contest software out there.
Do you integrate with X mailing list provider?
Currently we integrate with Mailchimp, Aweber, and Drip. You can also export to CSV after your contest is over, which we recommend. More integrations coming soon.
How does a contest look on mobile?
In this day and age, mobile has to be a priority. Our contests look amazing on mobile!
Can your contest software help me get Instagram, Facebook, or Twitter followers?
Yes! After a contestant enters, they're given the option to like or follow your social media pages.
Does this work even if I have zero audience?
Viral contests work no matter your audience size. If you have no audience, you just have to get creative with how you initially "seed" your contest. In our blog we go in-depth with how you can seed your contest list and see the viral growth.
Can I run a contest on my own domain instead of Vyper.io?
Coming soon. Our enterprise plan allows you to set a custom subdomain and removes VYPER branding from your contest landing page.
Do you allow pixel tracking and/or Google Analytics?
Yes. Starting from our pro plan you'll be able to embed Google Analytics code as well as any pixel code (ie - Facebook pixel) to the contest.
Super simple, affordable pricing
---
Downgrade anytime you don't need to run a contest. No long-term contracts.
Free
100 emails per contest
Run 1 Contest per month
Advanced cheating detection
Winner Draw
No Confirmation Emails
CSV Export Only
No Opt-in Bribes (?)
48-72 hour support
SIGN UP FREE
Pro
All features of "Free"
Unlimited emails per contest
Unlimited contests per month
Add 3rd Party Tracking Pixels
Confirmation Emails
CSV & Direct Email Integrations
Opt-in Bribes (?)
Priority (24 hour) support
SIGN UP FOR PRO
Enterprise
All features of "Pro"
Remove "VYPER" branding
Custom subdomains
Dedicated Account Rep
COMING SOON
Ready to build up a massive email list?
Create a free account to get started.